Weavery hosts retreats on both Bribie Island and Stradbroke Island, offering the chance to enjoy time away to weave, to learn, to share, to relax and to grow.
Both retreats are perfect for the beginner weaver as well as the more advanced as the focus is on connecting with self as well as with others in the group, weaving hearts together with conscious intent. You will discover amazing things… as your bodies, minds and souls expand with joy, leaving you rejuvenated and inspired. More info here: http://www.facebook.com/weaveryretreats
Every spring, summer and autumn, Weavery's Bribie Island weekend retreat takes place. It is a time of immersion in weaving, nature and self in a supportive group setting. Long walks on the beach, swims, yoga and an amazing Ayurvedic cooking class is on the menu.
Every December brings a 4-day retreat at Stradbroke Island, facilitated by Rene Bahloo of Weavery and Emma Creed of Sound Affects. We provide the nurturing space for you to reflect on your past year, celebrate accomplishments and integrate learnings – from a place of inner stillness. We all sing and laugh and help you weave it all together, in recognition of the masterpiece you have created with all its bumps and twists. And to open a loving space inside yourself, ready for a new year filled with positive manifestation. Sound good? Check out our facebook page here: http://www.facebook.com/AuthenticReflection with more info to come in the next few weeks…
Our shared accommodation is in a funky holiday house, close to beautiful swimming beaches and nature walks, where delicious, healthy vegetarian food is prepared for you with love.
What others have said:
"I found the weavery retreat hugely enriching on many levels. It was a wonderful experience into which I felt so warmly welcomed and supported. The strength and healing power of the circle was felt throughout the 3 days. I was greatly inspired by Rene's vast knowledge and intricate skills. I was particularly grateful for her ability to support everyone and explain techniques from different perspectives, giving time to repeat and break down working methods. The chance to share in the other ancient creative art-forms of Yoga and Ayuvedic cooking literally weaved us together as a group and added texture and vibrancy to the fabric of an amazing weekend."

– Leonie Rhodes (Brisbane)

"Rene's weavery retreat was a sublime feast for the senses. The weekend was spent deep in storytelling, connection and sharing of journey. Steeped in the oceanic magic of Bribie Island and immersed in the nurturance of Ayruvedic food, my spirit, mind and body combined to find a deep sense of peace… that now, a week later, has only just begun to dissipate. Much of our time on the retreat was spent in nature…creating a precious sense of reconnection to the elements. The new found skills garnered (Ayruvedic cooking, weavery in various forms and sharing from the heart) have enriched my life. I view Rene's weavery retreat as a gift from spirit, a sense of the sacred channelled and guided through Rene, shared out among us. By the end of the weekend I felt that sense of the sacred cultivated from deep within myself…ready to be shared out in the world. "

– Alana Mason (Coolum)

"The Weavery Retreat 2011 hosted by Rene Bahloo was an absolutely fantastic fun, time.
Not only did we as a group learn to weave baskets from natural fibres, we formed a heart connection with each other as we shared our stories and weaved new ones.
Rene is a very talented an inspiring woman and it was wonderful to hear her amazing stories and learn the art of weaving. We even got to see some dolphins frolicking in the ocean whilst we were weaving away on the beach. It was a special moment for all of us as a group. As we continued to weave our special baskets we each chose someone to give it to as a gift which was beautiful. Morning yoga by Kathleen was rejuvenating and relaxing and thoroughly enjoyed by all. Also I must not forget to mention that we ate some delicious nutritious food, cooked and prepared by Kathleen, and had a lesson on Aryuvedic cooking from the talented Falu and Michael. Falu gave us an overview on the history and principles which was very interesting. Then we headed off to the kitchen and had a go at cooking. I have never ever seen so many spices in my life and the aromas were lovely. We all sat together and enjoyed the food. To sum up the weekend, it was a beautiful connection of love , support, friendship, great food and of course creativity using natural resources by the beach."

– Kimberley Bradley (Gympie)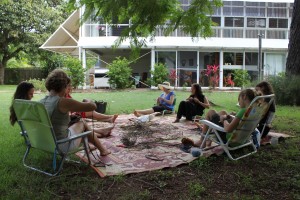 Contact:
Rene Bahloo
tribahloo@hotmail.com
(0438) 162 552